Dramatic swirling flames provide greater heat efficiency
The Carousel Free Standing Wood Burning Fireplace


Performance nears perfection with a beautiful swirling burning action. This is accomplished by a patented internal design that develops a near complete burn with a minimum of ash pollution. The carousel must be considered the crowning achievement in fireplace design the most desirable selection possible for the discriminating owner to whom this fireplace will have special meaning and purpose.

Available in solid brass and stainless steel with satin finish as well as matte black and porcelain colors.


Clearances: Combustible wall . . .24"
Patent #3.499.432
COMPLETE IMPERIAL CAROUSEL
INSTALLATION INSTRUCTIONS IN ADOBE PDF FORMAT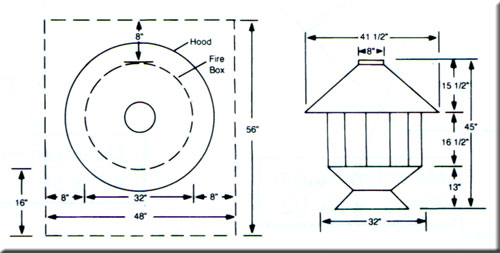 You have to see the Carousel in action. The swirling flames produce a flame that is completely different from any fire you have seen. The flames never touch the glass therefore smoke is very slow to build up on the glass.The swirling action assures a complete burn so there is little ash.

Our porcelain enamel finish is fired on at 1500° F for a lasting finish.
Gas units are finished in powder coated enamel.
Note: Due to variations of graphics on the Web and your computer the colors above may not be rendered accurately. They will approximate the actual colors.
Some models are available in brass, copper, nickle, stainless steel, or other specialty finishes. Contact us for more information.
POWDER COAT COLORS